NetApp Insight 2015 – Las Vegas is over and, by most accounts, was a rousing success!
We announced a ton of new, innovative things (which I can't detail yet). My sessions went pretty well. The live demo we did got a lot of visibility and people were excited about it. The NetApp Data Fabric story became a little more clear with some help from Dave Hitz. Neto (from Brazil) did a live demo of AFF failover that was pretty hot. And a 3x Flash Performance Guarantee marketing initiative called EMC You Later was announced. Coincidentally (yes, really), that week another EMC announcement was made.
And the Flash even made a cameo at the Insight party with Train: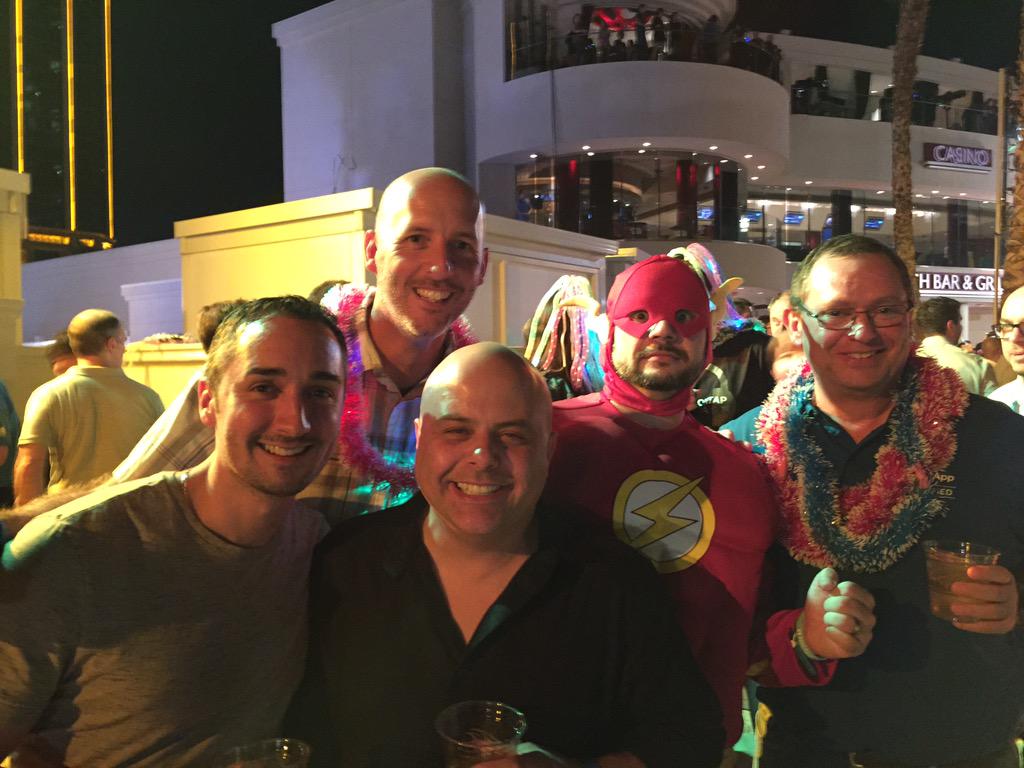 Now that it's all over, it's almost time to do it again. Insight EMEA starts up on November 17 in Berlin!
What to expect
Expect even more information on the Data Fabric, upcoming features and announcements for NetApp as a whole.
In addition, expect more live demos in the exhibit area. Stay tuned for location info, schedules, etc.
For a recap of some of that from Vegas, see these posts.
https://whyistheinternetbroken.wordpress.com/2015/10/15/insight-vegas-home-stretch/
https://whyistheinternetbroken.wordpress.com/2015/10/08/netapp-insight-2015-demo/
Also, expect daily recaps from the Tech ONTAP podcast team.
Sign up for Meet the Engineer in the Berlin schedule builder to meet me or other NetApp experts.
And last, but not least, my session schedule…
This year, I'll be focusing solely on multiprotocol in clustered Data ONTAP in an attempt to help people better understand the myriad questions surrounding the use SMB and NFS on the same unified data storage. I'll be doing a session on general multiprotocol best practices and operation called:
1884-2:  Unlocking the Mysteries of Multiprotocol NAS in Data ONTAP

Having trouble understanding multiprotocol? Can't figure out the difference between authentication and authorization? Do you think a name mapping rule is something doctors provide to new parents at the hospital? Wondering what a "CIFS/SMB" and "NFS" is anyway? This session can help! We cover all things NAS in clustered Data ONTAP, from the basics to the best practices, and try to help make multiprotocol a little clearer for storage administrators.
Session schedule for 1884-2:
Tues Nov 17: 11:30AM – 12:30PM
Wed Nov 18: 10:30AM – 11:30AM
Thurs Nov 19: 2:15PM – 3:15PM
For a deeper understanding of the inner workings of authentication in clustered Data ONTAP (which is integral to multiprotocol), I'll be doing a session called:
1881-3-TT: Authentication in Clustered Data ONTAP: SecD Deep Dive

Authentication in clustered Data ONTAP uses the security daemon (SecD) for connectivity to external dependencies for NAS protocols such as Active Directory, LDAP, NIS and DNS. This session will cover how SecD works in clustered Data ONTAP 8.3 and beyond, as well as how to troubleshoot issues and what kind of statistics are available for SecD and external name services.
Session schedule for 1881-3-TT:
Mon Nov 16: 2:45PM – 3:45PM
Wed Nov 18: 2:15PM – 3:15PM
See you in Berlin!